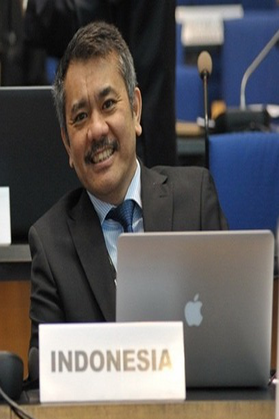 Dr. iur. DAMOS DUMOLI AGUSMAN, SH, MA
He is currently Director General for Legal Affairs and International Treaties of the Ministry of Foreign Affairs, Indonesia. Most of his career in the Ministry has been devoted to international law. He takes care of all treaties concluded by Indonesia, on how they are prepared, concluded, and then implemented in the domestic level. He also deals with maritime issues and how Indonesia implements UNCLOS 1982, and handles maritime boundaries negotiation.

He has been posted to some prestigious foreign missions abroad i.e. the Indonesian Embassy in the Hague, the Netherlands (1993-1997), the Indonesian Permanent Representative to the United Nations in Vienna (2000-2004), and as the Consul General in Frankfurt, Germany (2010-2014).

He graduated for Padjajaran University, Bandung (1987), acquiring MA in International Law and Politics in University of Hull, UK (1991), and Doctorate degree on international law from University of Frankfurt (2014). He also attended the Hague Academy of International Law in 1994. He has published books "Hukum Perjanjian Internasional, Refika, 2010 and "Treaties under Indonesian Law: Comparative Study", Rosda, 2014.