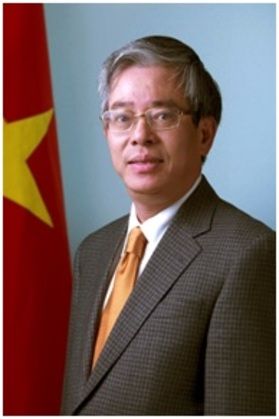 H.E. Ambassador Pham Quang Vinh was appointed by President Truong Tan Sang as the fifth Ambassador Extraordinary and Plenipotentiary of the Socialist Republic of Viet Nam to the United States of America in July 2014. He has also been accredited to the title of Senior Ambassador – the highest rank for a Vietnamese career diplomat.
From September 2011 to July 2014, Ambassador Pham Quang Vinh served as Deputy Minister of the Ministry of Foreign Affairs (MOFA) in charge of relations with countries in South Asia, Southeast Asia and the South Pacific, and Viet NaM's Senior Official to the Association of Southeast Asian Nations (ASEAN SOM Leader). Ambassador Pham Quang Vinh was posted twice to the Permanent Mission of Viet Nam to the United Nations in New York, first as an Attaché from January 1987 to January 1990 and then as a Minister Counselor and Deputy Permanent Representative from July 1996 to August 1999. His third posting was to the Embassy of Viet Nam in Bangkok, Thailand as a Minister Counselor from December 2003 to January 2007.
Ambassador Pham Quang Vinh graduated from the University of Foreign Affairs, Hanoi, Viet Nam in 1980 and earned a post-graduate degree at Canberra College of Advanced Education, Australia in 1985.